Overview

The Achilles tendon is at the back of the heel. It can be ruptured by sudden force on the foot or ankle. If your Achilles tendon is ruptured you will be unable to stand on tiptoe, and will have a flat-footed walk. It is important to diagnose and treat this injury as soon as possible, to help promote healing. Treatment involves wearing a plaster cast or brace (orthosis) for several weeks, and possibly having an operation.

Causes
As with any muscle or tendon in the body, the Achilles tendon can be torn if there is a high force or stress on it. This can happen with activities which involve a forceful push off with the foot, for example, in football, running, basketball, diving, and tennis. The push off movement uses a strong contraction of the calf muscles which can stress the Achilles tendon too much. The Achilles tendon can also be damaged by injuries such as falls, if the foot is suddenly forced into an upward-pointing position, this movement stretches the tendon. Another possible injury is a deep cut at the back of the ankle, which might go into the tendon. Sometimes the Achilles tendon is weak, making it more prone to rupture. Factors that weaken the Achilles tendon are as follows. Corticosteroid medication (such as prednisolone) - mainly if it is used as long-term treatment rather than a short course. Corticosteroid injection near the Achilles tendon. Certain rare medical conditions, such as Cushing's syndrome, where the body makes too much of its own corticosteroid hormones. Increasing age. Tendonitis (inflammation) of the Achilles tendon. Other medical conditions which can make the tendon more prone to rupture; for example, rheumatoid arthritis, gout and systemic lupus erythematosus (SLE), lupus. Certain antibiotic medicines may slightly increase the risk of having an Achilles tendon rupture. These are the quinolone antibiotics such as ciprofloxacin and ofloxacin. The risk of having an Achilles tendon rupture with these antibiotics is actually very low, and mainly applies if you are also taking corticosteroid medication or are over the age of about 60.

Symptoms
Patients with an Achilles tendon rupture will often complain of a sudden snap in the back of the leg. The pain is often intense. With a complete rupture, the individual will only be ambulate with a limp. Most people will not be able to climb stairs, run, or stand on their toes. Swelling around the calf may occur. Patients may often have had a sudden increase in exercise or intensity of activity. Some patients may have had recent corticosteroid injections or use of fluoroquinolone antibiotics. Some athletes may have had a prior injury to the tendon.

Diagnosis
A consultation and physical exam with a qualified musculoskeletal expert is the first step. X-ray or MRI scanning may be required for a diagnosis. Once a rupture is diagnosed it should be treated to prevent loss of strength and inadequate healing.

Non Surgical Treatment
Achilles tendon ruptures can be treated non-operatively or operatively. Both of these treatment approaches have advantages and disadvantages. In general, younger patients with no medical problems may tend to do better with operative treatment, whereas patients with significant medical problems or older age may be best served with non-operative treatment. However, the decision of how the Achilles tendon rupture is treated should be based on each individual patient after the advantages and disadvantages of both treatment options are reviewed. It is important to realize that while Achilles tendon ruptures can be treated either non-operatively or operatively, they must be treated. A neglected Achilles tendon rupture (i.e. one where the tendon ends are not kept opposed) will lead to marked problems of the leg in walking, which may eventually lead to other limb and joint problems. Furthermore, late reconstruction of non-treated Achilles tendon rupture is significantly more complex than timely treatment.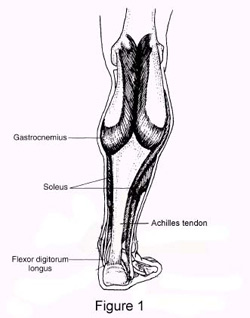 Surgical Treatment
Surgery is a common treatment for a complete rupture of the Achilles tendon. The procedure generally involves making an incision in the back of your lower leg and stitching the torn tendon together. Depending on the condition of the torn tissue, the repair may be reinforced with other tendons. Surgical complications can include infection and nerve damage. Infection rates are reduced in surgeries that employ smaller incisions. After treatment, whether surgical or nonsurgical, you'll go through a rehabilitation program involving physical therapy exercises to strengthen your leg muscles and Achilles tendon. Most people return to their former level of activity within four to six months.